The career of a match official may come to an end after he was pictured taking a selfie with Senegal hero Sadio Mane. Mane scored the decisive penalty to help Senegal defeat Egypt 4-2 on penalties in the finals of the Africa Cup on Nations (AFCON) on Sunday. The Teranga Lions followed their famous triumph with wild celebrations, however one action spotted during the celebration seems to have caused some controversy.
A referee was seen posing for selfies with Liverpool's Mane who converted the last kick in the shootout to hand victory for his country.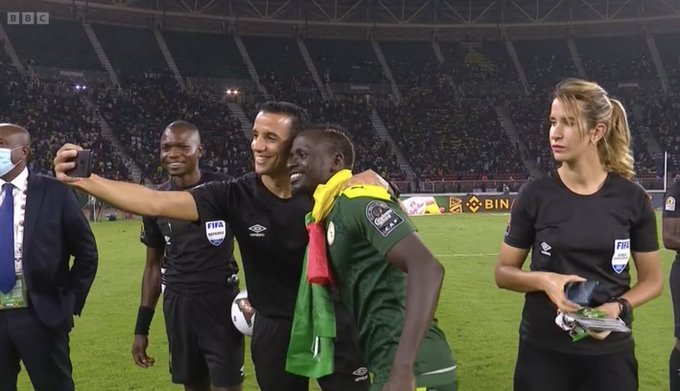 Another referee standing alongside him was also seen taking a picture with the 29-year-old, and ex-Premier League and FIFA official Keith Hackett believes this could lead to serious repercussions.
"This is an absolute no-no," he told Football Insider. "The stars in football matches are the players. As a referee you have to be seen to be neutral, completely neutral. This action by this referee, an experienced referee, is unacceptable.
"For me, I would be saying you're not going to anywhere near that team in the future, albeit at the international level. I would be suggesting that his career might be over.
Source: SPORTS BRIEF NEWS