The wife of boxing world champion Tyson Fury has said "words can't describe" how proud she is of him achieving what he told her when she was a teenager.
On Instagram, Paris Fury said her husband had "told me when I was 16 he would do all this".
"It seemed crazy back then, but he followed his dreams and I supported him all the way," she added.
Fury produced a stunning one-punch stoppage in the sixth round to beat fellow Briton Dillian Whyte.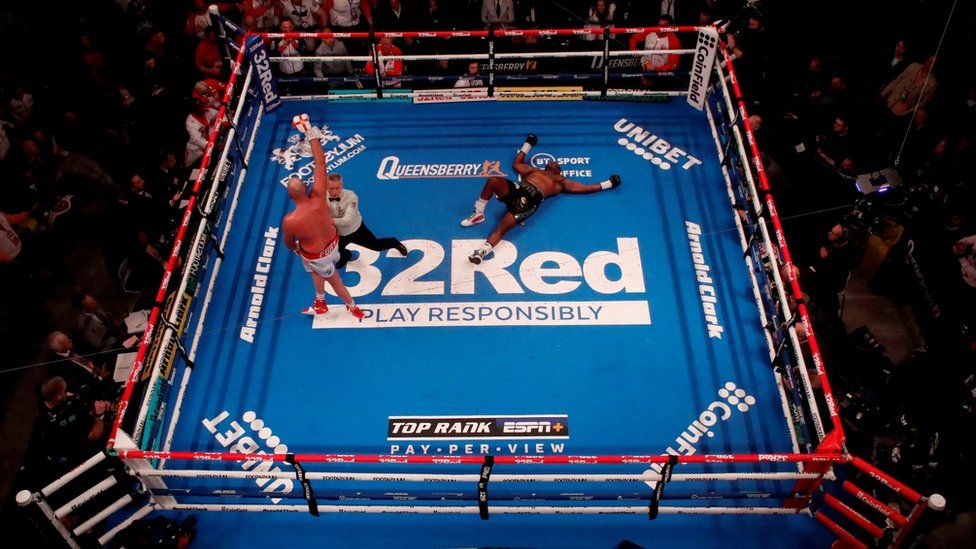 He added later that he had "spent a lot of time on the road" and had "been away for a long time".
"I promised my wife that would be it after the [Deontay] Wilder fight, but I got offered a fight at Wembley and I owed it to the fans."
Paris Fury, who met Tyson when they were both teenagers, told BT Sport her husband had accomplished all he wanted.
She said: "If he had anything left to do, I would say 'Yeah Tyson, you do it'. But he has nothing to prove."
In her post, she said: "Words can't describe how proud I am of him."
Boxing promoter Frank Warren told BBC Radio 5 Live that he did not know if Fury would retire.
"If that's how he feels at the moment, that's what he'll do," he said.
"Everybody should support him in the way he feels, because boxing is a dangerous sport and if your heart's not in it, you shouldn't be in the ring.
"He needs downtime with his family now and to enjoy himself."


'I wouldn't be surprised if Fury does retire'
Analysis by BBC Radio 5 Live's Steve Bunce
Everything about Tyson Fury in the ring against Dillian Whyte, in front of 94,000 people at Wembley, was perfection.
He told his team as he left his dressing room "we'll have a masterclass tonight". And boy, oh boy, did he deliver.
I was privileged to be on the ring apron. He was playing and setting Whyte up, and then unleashed that punch. It was inch-perfect. Precise.
Whyte somehow, amazingly, got up. But Fury never put a foot, or punch, wrong.
The Gypsy King has suggested he will now retire. If he does walk away from boxing, I will not be totally surprised – but it is complex.